Offer Expires On September 30, 2017 at 5:00PM PST.
COOLSCULPTING
NON-SURGICAL FAT REDUCTION
WHAT IS COOLSCULPTING?
The CoolSculpting procedure eliminates stubborn fat safely and effectively, without surgery or downtime. This fat reduction treatment is the only FDA-cleared procedure to use controlled cooling to safely target and eliminate diet- and exercise-resistant fat. CoolSculpting results are proven, noticeable, and lasting, so you'll look and feel great from every angle.
You can reshape your body! We will develop a customized CoolSculpting treatment plan that addresses your problem areas. Your individualized treatment plan will be tailored to your body, your goals, and your budget.
You will like what you see. In the weeks and months following your procedure, your body naturally processes the fat and eliminates these dead cells. Once the treated fat cells are gone, they're gone for good.
Are you ready to love every view of you? The sooner you set up your consultation, the sooner you'll see results in the mirror—long-term results in those areas that have resisted all efforts through diet and exercise.
WHAT AREAS CAN WE TREAT WITH COOLSCULPTING?
Stomach/Abdomen

Love Handles/Flanks

Under the Neck (Double Chin)

Back/Bra Area

Thighs
HOW DOES COOLSCULPTING WORK?
A team of scientists discovered that fat may be reduced simply by cooling it, because fat cells freeze at higher temperatures than surrounding tissues. The CoolSculpting device precisely targets these fat cells and delivers a controlled cooling effect that crystallizes them. The fat cells die, and over time your body eliminates them.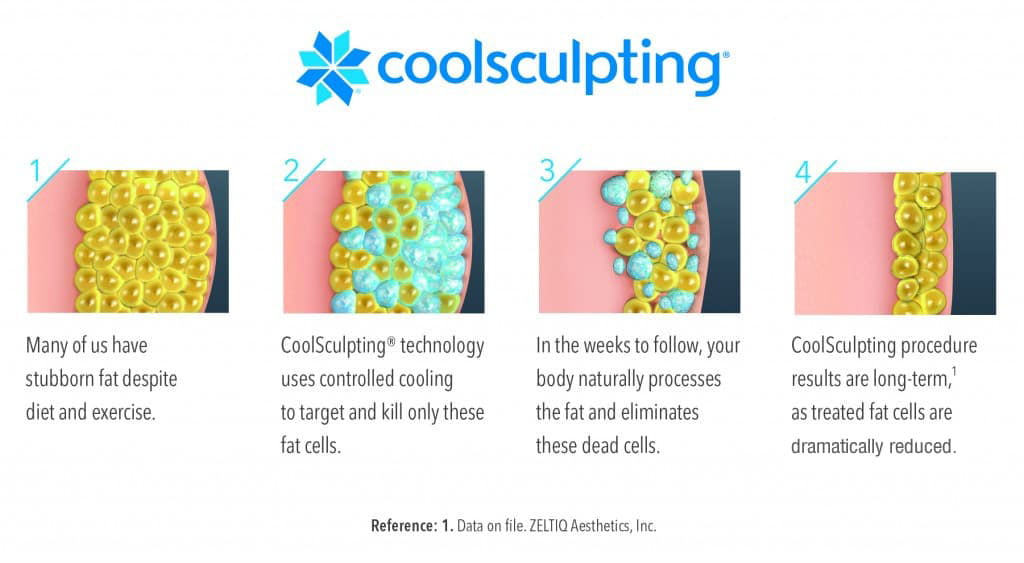 NATURAL-LOOKING RESULTS
After one session, the treated area will gradually appear smoother and more toned over the course of the following six months. The majority of the frozen fat cells will naturally work their way out of your body in the first two months, but many see some fat reduction after just four weeks!
CONVENIENT AND COMFORTABLE
A session is as short as 35 minutes, up to 60 minutes, making it quite possibly one of the best-used hours of your life. Many report feeling a burst of cold air, followed by dull pressure. During their session, some guests read, get work done – or even sleep!
FDA-CLEARED
CoolSculpting® uses controlled cooling to target and freeze away fat cells. Developed by scientists at the Wellman Center for Photomedicine at Massachusetts General Hospital, it's the only FDA-cleared fat freezing technology. The treatment is safe on your body – but tough on stubborn fat.
QUALIFIED PROFESSIONALS
Our staff members are very familiar with the process, and can even give you insight into the amazing results they've experienced first-hand.
COOLSCULPTING BEFORE & AFTER