Dr. George Anterasian
Santa Monica Dermatologist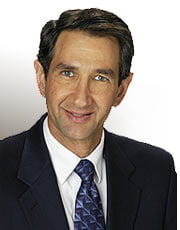 Dr. George Anterasian graduated Phi Beta Kappa and Summa Cum Laude as an undergraduate from UCLA and is an Alpha Omega Alpha honors graduate of the UCLA School of Medicine. He completed his residency at the University of California in San Diego, and he is board certified in the medical, surgical, and cosmetic treatment of conditions involving the face, head, and neck. He has over thirty years of experience in treating these conditions.
Dr. Anterasian is especially interested in non-surgical facial rejuvenation and laser and light based skin treatments. He has performed thousands of non-surgical facial rejuvenation procedures with consistently excellent results. Dr. Anterasian has been honored by selection to "America's Top Surgeons" every year since 2008.
Dr. Amerian and Dr. Anterasian work together to develop a customized treatment plan for every patient. Our treatment plans utilize the most technologically advanced methods currently available. This ensures that our patients receive the optimum combination of treatment modalities and obtain the best possible results.
We utilize all of the modern techniques of non-surgical facial and body rejuvenation. By using the Fraxel lasers, Vbeam and Alexandrite lasers, Thermage, Botox, Coolsculpting, SculpSure, and fillers such as Juvederm, Voluma, Restylane and Belotero, our patients have indeed looked "Ten Years Younger," and without any surgery.
Summary
Name
Company
Santa Monica Laser & Skin Care Center