Wait, what is that? Look a little closer. Is that a new dark spot in the same place as that pimple you had last week? Did it appear after a long weekend in the sun? After a breakout, bug bite, or an injury on your face? Hyperpigmentation, or dark spots, are a result of any type of skin trauma. When our skin is injured, let's say by a breakout or too much exposure from the sun, it responds by releasing color in the same place where the "injury" occurred. These dark spots, also known as hyperpigmentation, can take months for the color to fade.
Don't stress – thankfully there are tools and lasers to help with the fading of hyperpigmentation. Your skincare experts, Dr. Mary Lee Amerian and Dr. George Anterasian, are here to help you discover the easiest and best ways to treat hyperpigmentation. Not all dark spots are created equally, so they all shouldn't be treated the same way. From hyperpigmentation caused by the sun, to dark spots caused by acne, we've broken down the best ways to treat different types of dark spots.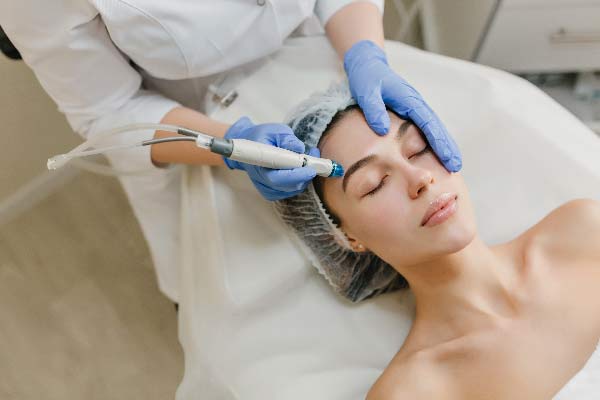 4 Effective Ways to Treat Hyperpigmentation
Topical Creams: Best for Minimal Dark Spots
Lasers tend to be the quickest and most effective way to treat dark sports caused by acne or any trauma to the skin. But if lasers aren't your thing, you can try using topical creams. Topical medications that contain retinoids, combined with a gentle chemical peel could help with hyperpigmentation. Look for skin care products that contain retinols and antioxidants, such as vitamin C.
PicoSure Laser Skin Revitalization: Best for Severe Hyperpigmentation
If you suffer from severe dark spots and excessive hyperpigmentation, PicoSure is exactly what your skin needs. The PicoSure laser has the ability to rejuvenate your skin with no downtime. This new and innovative method is perfect for treating hyperpigmentation on the face, neck, chest or hands. What makes PicoSure so unique is that it can give you amazing results, with no redness, downtime or pain.
IPL (Photofacial): Best for Discoloration from The Sun
If you suffer from dark spots caused by the sun, IPL (Photofacial) might be what you're looking for. The light energy from the Photofacial pulses onto the skin, and seeks and lifts discoloration. This treatment gently evens out your skin tone, and helps get rid of those stubborn dark spots, leaving you younger looking and more refreshed.
Chemical Peel: Best for Stubborn Dark Spots
Chemical peels help banish discoloration and stubborn dark spots. If you're looking for speedy results and don't want a laser treatment, a chemical peel might be one of your best options. Chemical peels are great for removing deeper pigment. However, not every skin color is suitable for a chemical peel, and if you have a history of scarring, you might want to talk with your dermatologist about other options.
If you're not sure which hyperpigmentation treatment will work best for you, our skin care experts will be more than happy to create a skin care routine customized to you and your skin.
Call our office today to schedule an appointment or a free consultation!
Call us at (310) 829-9396 or BOOK ONLINE.
Summary
Article Name
4 Effective Ways to Treat Hyperpigmentation
Description
From hyperpigmentation caused by the sun, to dark spots caused by acne, we've broken down the best ways to treat different types of dark spots.
Author
Santa Monica Laser & Skin Care Center
Publisher Name
Santa Monica Laser & Skin Care Center
Publisher Logo