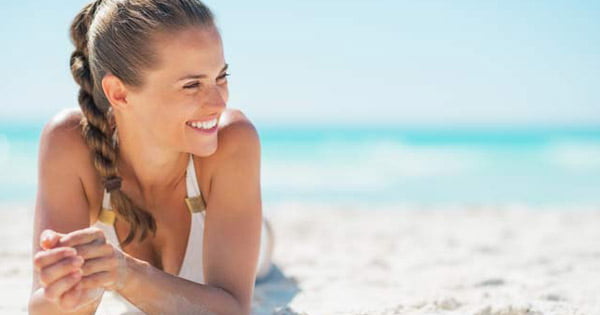 Although prevention is the best solution to sun damage (make sure you're using that sunscreen), it is possible to reverse some signs of sun damage and to improve the appearance of your skin. Come into the Santa Monica Laser and Skin Care Center for personalized treatment recommendations.
What Are My Options for Treating Sun Damaged Skin?
Do you have sun-damaged skin? Several treatment options are available. Let's take a look at a couple of our most popular and effective options.
Fraxel Laser Skin Resurfacing- Discover your best skin by fading sun damage away. Fraxel laser skin resurfacing can fade brown spots and sunspots while smoothing wrinkles and improving skin texture. For patients with sun damage, we often recommend the very effective Fraxel Restore DUAL. It combines the traditional Fraxel Restore Erbium laser with a Thulium laser to accelerate the removal of abnormal pigment. This treatment requires no downtime, and most patients find that discomfort is very minimal. Depending on your needs, we may recommend using the Thulium laser on its own or pairing it with the Erbium laser.
Chemical Peels- Another effective option for treating sun damage is a series of chemical peels. These peels use an acid solution to remove the outermost layers of skin, uncovering healthy, new skin. Chemical peels can improve the appearance of your skin by fading brown spots, smoothing wrinkles, and rejuvenating your skin. We offer a variety of chemical peels (including glycolic and TCA peels), and can help you choose the best peel for your skin.
How Can I Prevent Future Sun Damage?
Once we treat your sun damage, it's very important that you keep future damage from occurring. A little extra care can significantly reduce sun damage. Here are some tips for protecting your skin from the sun.
Use Sunscreen- Winter or summer, sun or rain—use sunscreen. Sunscreen should be a daily habit. A moisturizer with SPF is good for daily use but, if you'll be in the sun for an extended period, use something stronger. You should also apply generously and reapply often. If you need a product recommendation, give us a call. We carry a wide range of sun protection products to protect your skin.
Avoid Peak Sun Hours- UV light is the strongest from about 10 a.m. to 2 p.m. If you can, stay indoors during these hours. If you do go outside, cover up, seek out shade, wear a hat, and use sunscreen.
For  a limited time receive Free Botox -or- Juvederm with Fraxel Laser Treatment ($750 Value)

Say goodbye to sun damaged skin before summer starts! Schedule your Fraxel laser skin resurfacing treatment today and receive your choice of FREE Botox or Juvederm Filler with the purchase of Fraxel Laser Treatment ($750 VALUE).
– OR –
CLICK HERE TO BOOK ONLINE
*Free Botox or Juvederm is for $750 worth of Botox or one full syringe of Juvederm or $750 credit toward the cost of Voluma. Offer expires 5/31/2016.
[/fusion_builder_column][/fusion_builder_row][/fusion_builder_container]