Repair Sun Damaged Skin: 4 Dermatologist-Approved Skin Treatments
Despite best efforts to mind SPF, treasured days spent in the salty sea and under a blazing sun can make a major impact on your skin. Not only do the hot temperatures and humidity dry out your pores, but sweat can clog them and constant sun exposure can cause early signs of aging and pose potential UV dangers. As we head into the fall season, it's also a good time to pause, evaluate, and make a plan for damage control. Thankfully, there are a number of in-office treatments targeted at everything from dull complexions to wrinkles, dark spots, and even precancerous lesions. Here is a comprehensive guide to the best skin treatments to repair sun damaged skin, just in time for the leaves to fall and the air to cool.
For Sun Damaged Skin: Chemical Peel and Microdermabrasion
Chemical peels and microdermabrasion are an ideal course of action right after summer before fall activities start booking up your calendar. Microdermabrasion smoothes away fine lines and wrinkles and stimulates collagen and elastin production. Because you'll need at least a few days up to a week to recover at home, you want to make sure you block out healing time. This highly effective microdermabrasion treatment is one of the most innovative and sought after means to achieve younger looking healthy skin.
For Skin Discoloration: PicoSure Laser Treatments
For a more intensive post-summer treatment we suggest trying a PicoSure laser treatment to truly exfoliate, cleanse and improve your skin. PicoSure treatments with the focus lens array will improve the sun spots and abnormal brown pigment resulting from excessive sun exposure, improve fine lines and wrinkles, and treat acne and other types of scars. Unique to the PicoSure, these results are achieved without redness, downtime, or pain. Depending on what is being treated and the patient's skin type, most patients will require between two and five PicoSure treatments spaced at 4-6 week intervals.
For Fine Lines and Wrinkles: TempSure Envi
For most who are starting to consider anti-aging measures, increasing collagen production is key. The new radiofrequency laser TempSure Envi is proven to drive new collagen formation which leads to a reduction in fine lines and wrinkles, skin tightening, and an overall improvement in the quality and appearance of the skin.
For Sun Spots on Face, Chest and Arms: IPL Photofacial Laser Treatment
While you might have been hyperfocused on reapplying sunscreen to your face, it's not just your cheeks and forehead that battled through summer. Your neck, chest and hands also received a big brunt of UV exposure and they deserve some autumn TLC, too. To repair other parts of your body, we suggest opting for a photo facial laser treatment, which is a more extensive rejuvenation treatment that improves the overall look of the skin by diminishing brown spots and blotchiness while improving collagen and elastic fibers throughout your skin's several layers. How does it work? Pulses of light are used to penetrate deep into your skin, which causes your blood vessels to constrict. It's not painful, but it requires a little downtime post-treatment.
If you have any questions about these treatments or more ways to repair sun damaged skin, come see one of our amazing doctors for a beauty consultation – it's completely free!
Don't forget about the specials we're running on skin rejuvenating treatments right now, like TempSure. Head over to our specials page for more.
Call us at (310) 906-4048 or BOOK ONLINE.
Summary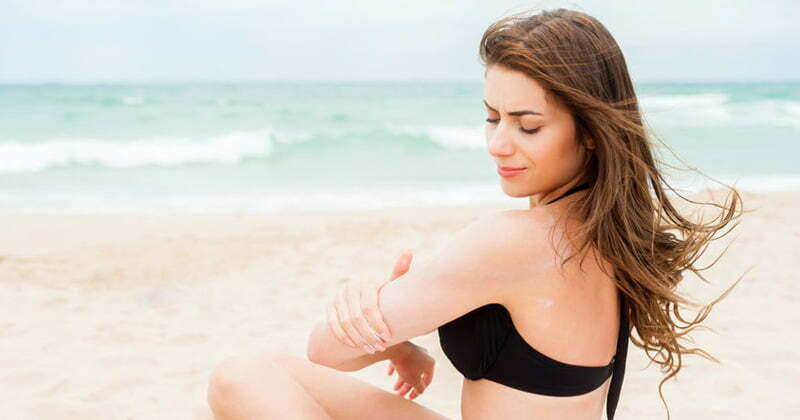 Article Name
Repair Sun Damaged Skin: 4 Dermatologist-Approved Skin Treatments
Description
From fading skin discoloration to repairing sun damaged skin, here are 4 dermatologist-approved skin treatment to fighting the damaging effects of summer.
Author
Mary Lee Amerian M.D. Dermatology
Publisher Name
Mary Lee Amerian M.D. Dermatology
Publisher Logo