You look in the mirror and you don't see the radiant, blemish-free, smooth skin you once had, and you wonder what you can do to get it back. We don't have a time machine, but we have the next best thing – skin rejuvenation treatments! With laser skin rejuvenation treatments, you can turn back the clock on the fine lines, wrinkles, sagging skin and other blemishes. Laser skin rejuvenation treatments are a wonderful and proven way to fight against aging.
Each laser skin rejuvenation treatment is different, and some treatments work better for some people than others. Dr. Amerian and the Santa Monica Laser & Skin Care Center are here to break down the best laser skin rejuvenation treatments, and which one might be best for you.
INFINI Skin Rejuvenation Laser Treatment
If you want to fight against fine lines, wrinkles and sagging skin the INFINI Skin Rejuvenation laser treatment is perfect for you! INFINI is an FDA approved non-surgical cosmetic treatment designed to improve fine lines and wrinkles, tighten the skin, boost collagen, and improve scars. Like we said earlier, this is the next best thing to a time machine. INFINI Skin Rejuvenation is commonly used to treat the skin on the face, neck, chest, and the skin around the eyes and eyelids.
How It Works
The INFINI laser uses tiny micro-needles to deliver radio frequency energy into the skin below the skin surface. This increases new collagen formation, resulting in tighter skin and a reduction in fine lines and wrinkles. Say hello smooth skin!
Because the energy is placed deeper under the skin surface, the skin heals quickly. Patients usually have one or two days of redness. Makeup can be applied the day after the procedure.
See Results
As new collagen begins to form, results start becoming visible over three to four weeks. The optimum result is achieved four months following the last treatment. Most patients will require two or three treatments, although acne-scarring patients may need a few extra treatments. You'll be amazed at the results you see from the INFINI Skin Rejuvenation Laser!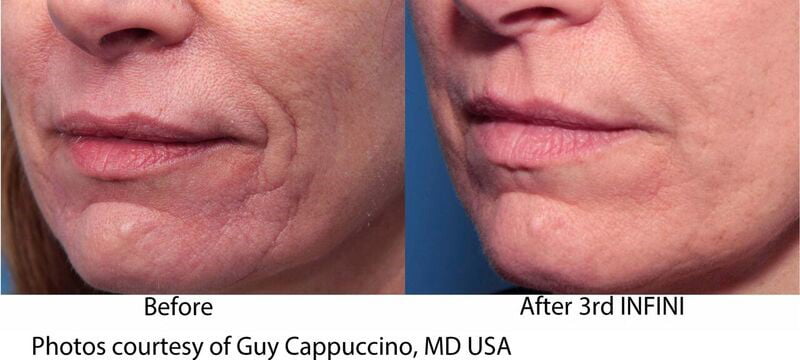 PicoSure Laser Skin Revitalization
The PicoSure Laser Skin Revitalization is the perfect for women or men who have a busy schedule and can't take any time off work, but want to treat unwanted pigment, wrinkles and acne scars. The PicoSure FOCUS lens array is also the latest state-of-the-art technology the industry has to offer for removing tattoos. This laser can revitalize your skin in so many ways, including reducing signs of wrinkles, dark spots and acne scars.
No Downtime
The PicoSure's advanced technology offers amazing skin rejuvenation with no downtown. That's right – no downtime. It's a new and innovative method for treating the skin on the face, neck, chest, and hands. Unique to the PicoSure, these results are achieved without redness, downtime, or pain. Depending on what is being treated and the patient's skin type, most patients will require between two and five PicoSure treatments, spaced at 4-6 week intervals.
How PicoSure Laser Skin Revitalization Works
The PicoSure laser uses ultra-short bursts of laser energy. These bursts of energy elicit a tissue reaction in the skin that leads to a reduction in pigmented skin lesions, smoothing of wrinkles, improved acne and other scars, and an increase in collagen and elastin. This results in brighter, smoother, and younger looking skin.
Thermage / Radio Frequency Treatment
Tighten. Lift. Smooth. The Thermage Treatment works wonders on smoothing lines and wrinkles, and tightening and lifting sagging skin. The non-invasive radio frequency technique can take years off your appearance in a stunningly natural way.
Another wonderful thing about the Thermage Radio Frequency technology is that it tightens skin without using lasers, needles or injections. Its Comfort Pulse Technology makes the treatment more comfortable for patients.
Long-Lasting Results
The combined action of the immediate tightening of collagen and the production of new collagen results in a tighter skin and a more youthful appearance. Because improvement occurs at the fundamental level of collagen contraction and new collagen formation, the results are long lasting and should persist for years. Yes – years!
Fraxel Restore & Repair Laser
Fraxel Restore Laser
The Fraxel Restore Laser Treatment is great for many things, including treating fine lines, wrinkles, brown spots, sun spots, age spots, and acne scarring. The Fraxel Restore laser utilizes a new technology called Fractional Resurfacing.
With Fractional Resurfacing Technology, only a fraction of the skin receives the laser light. The laser delivers a series of microscopic closely spaced laser spots to the skin while simultaneously preserving normal healthy skin between the laser spots. This preservation of healthy skin results in rapid healing following the laser treatment.
Treatments with the Fraxel Restore laser have no recovery downtime. There is no need for pain medicine after the treatment, as any discomfort from the procedure is minimal. Optimum results are generally achieved by a series of 4 to 5 treatment sessions spaced three to four weeks apart.
Fraxel Repair Laser
The Fraxel Repair Laser is the newest member of the Fraxel family! The Fraxel Repair laser is best for patients who want to tighten their skin and improve relatively deeper lines and wrinkles on their face. The Fraxel Repair can be used on the entire face, or used to treat smaller areas, such as around the mouth or eyelids.
In addition to its use on the face, the Fraxel Repair may also be used to treat the neck and chest. In these off-face locations, the laser treatment again results in skin tightening, improved skin texture, and improved skin color.
The Fraxel Repair is FDA approved for the treatment of wrinkles, furrows, fine lines, textural irregularities, pigmented skin lesions, and vascular dyschromia.
If you're interested in one of our skin rejuvenation treatments, and want to talk to Dr. Amerian or Dr. Anterasian at the Santa Monica Laser & Skin Care Center about which treatment would be best for you, call our office today to schedule an appointment or a free consultation!
Summary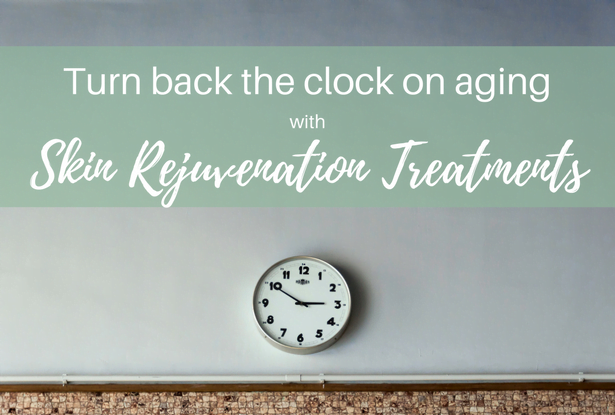 Article Name
Turn Back the Clock on Aging with Skin Rejuvenation Treatments
Description
We don't have a time machine but we have the next best thing – skin rejuvenation treatments! Turn back the clock on aging & wrinkles with skin rejuvenation.
Author
Publisher Name
Santa Monica Laser & Skin Care Center
Publisher Logo