Comparing Different Types of Dermal Fillers
One of the fastest growing noninvasive cosmetic-treatments available today is dermal fillers. There are many types of dermal fillers, each with its own ideal usage for reversing the signs of aging by smoothing wrinkles, plumping the lips, and restoring a more youthful appearance. While having more choice is great for experienced injectors, choosing between filler treatments can get confusing.
To help clear up any confusion, here is a guide to the most common types of dermal fillers:
What Are Dermal Fillers Used to Treat?
This depends somewhat on which dermal filler you're using, but the broad answer is lines and wrinkles. They can also be used to plump and define lips and fill hollow areas on the face. Here are some of the areas where they work best:
lines from the nose to the mouth (nasolabial fold)
lines from the mouth to the chin (melomental fold)
lines above the upper lip
frown lines (best combined with Botox)
in the lips for volume and definition
to restore volume to cheekbones or cheeks
in some situations, under the eyes
to fill out the backs of the hands and make veins look less prominent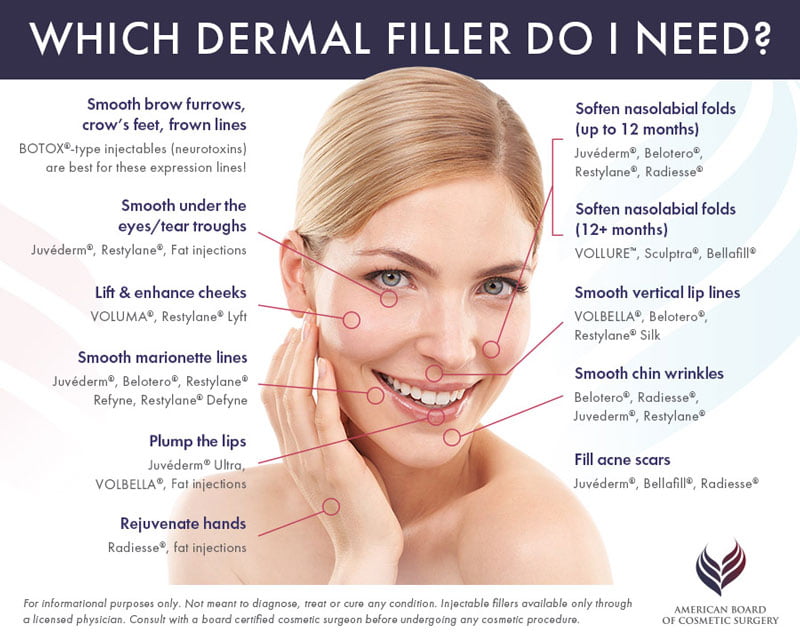 Botox
Botox is a proven and effective anti-aging treatment for softening wrinkles by relaxing the underlying facial muscles so that lines and wrinkles in the face are reduced. The results can be seen as early as within 24 to 28 hours and lasts from 3-6 months.
Juvederm
Juvéderm is a collection of fillers, and different forms are designed to be used in different areas of the face. Juvederm is great for addressing fine to moderate facial wrinkles as well as adding facial volume. Juvéderm creates a smooth and natural look and feel with results lasting from 6-8 months.
Belotero
Belotero lessens the depth from creases caused by moderate to severe wrinkles. These fillers maintain and preserve facial movement as well as provide natural-looking results. This type of dermal filler lasts up to 6 months long and is hyaluronic acid based as well.
Restylane
When injected into the skin, Restylane increases skin volume by increasing water absorption. Restylane works to correct moderate to severe facial wrinkles and folds and to add volume in the lips and can last up to 12 months.
Find Your Ideal Dermal Filler Match
Choose the right dermal filler for yourself with the help of a trusted physician at Mary Lee Amerian M.D. Dermatology. Here, Mary Lee Amerian, M.D. and George Anterasian, M.D. provides their patients with years of experience and knowledge during one-on-one consultations regarding the non surgical treatments available at their practice. Both Dr. Amerian and Dr. Anterasian are board certified by The American Board of Plastic Surgery.
To schedule a consultation for any aesthetic surface or other procedures, contact the office of Mary Lee Amerian M.D. Dermatology today at (310) 829-9396. They are located at 2336 Santa Monica Blvd., Suite 209, in Santa Monica, California.
Summary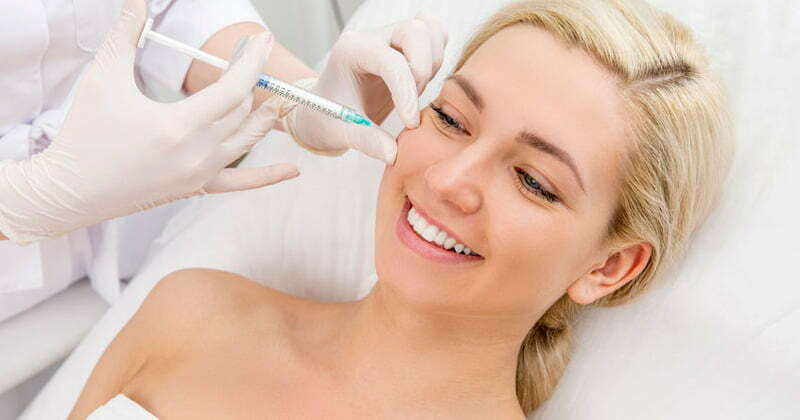 Article Name
Comparing Different Types of Dermal Fillers
Description
Wondering what the difference is between Juvederm, Botox, Restylane and Belataro? Use this guide to help choose the best types of dermal fillers for you!
Author
Publisher Name
Mary Lee Amerian M.D. Dermatology
Publisher Logo